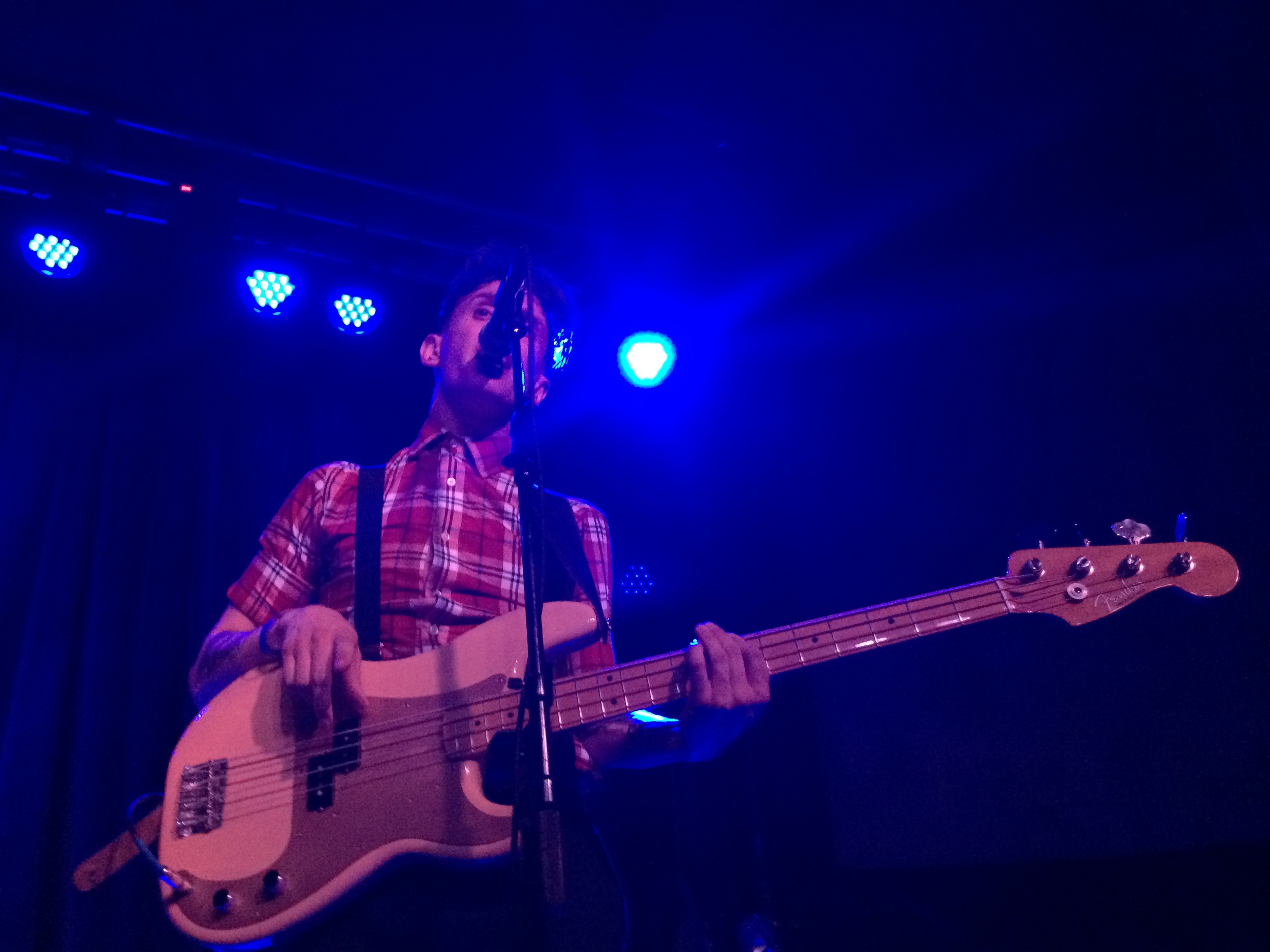 So, this is like a week late. But, better late than never.
Alright... Miniature Tigers is a really awesome indie/pop/electronicy band that my brother introduced to me (of course) a few years back.
I believe he showed me the song Viking Hearts. Back then I was really into the whole acoustic boy band thing. Especially if it was a love song, love songs pretty much ruled my life from the ages of 14 all the way through till, well... now, I guess now most of the songs I still listen to and love are about love. Hmmm.
Well, finally my brother and I got the opportunity to see this kick ass band last weekend in Santa Ana and I am so happy that we did. They were amazing.
From top to bottom:
Flashlights was the first opener. I had never heard of this band, but they were crazy awesome. They really surprised me. I didn't expect to enjoy their style as much as I did. Their physical appearance lead me to believe I was about to hear some unrhythmic whinny punk music, which is funny because that didn't seem like an appropriate opener for a band like Miniature Tigers, but after they finally played, I understood why they were there. I felt like it was sort of punky-beach-hardcoreish music, and I loved it. The lead singer was really enthusiastic, which is always a pleasure to watch. Like I hate going to a show where I feel like the band playing doesn't even want to be there. Like why do you look so miserable? I paid to see you be awesome and you just aren't doing it for me. Luckily, I didn't feel like that at all while watching Flashlights, they were great! They also have a female drummer. Major props to her! She killed it. That was like the first thing that William mentioned when they came out and it was great to see her do her thing. Female drummers in an all male band, especially, are pretty hard to come by so it was a cool thing to see.
I also give this band major props because LA decided to have like a 5.3 earthquake during their set. As the back drop of the stage began shaking, I thought it was the hardcore show that was happening on the other side of the wall, but then I noticed other objects (objects the were above my head mind you) moving as well. Thats when I clued in and realized we were experiencing an earthquake. I am most positive that everything at the Observatory is properly secured up there in the ceiling and all that, but I would be lying if I said I wasn't a little bit worried that there was a possibility of something falling down. Lights, speakers, metal rods, all that good stuff, right above our very heads, but the band played on and only commented afterwards.
The second opening band was Total Slacker. I really tried to give them the benefit of the doubt after it took them an unusually long amount of time to set up. But it was just something I couldn't get into. Not only from a personal point of view but from a general census of the way I saw everyone else in the crowd reacting, I don't think anyone else knew why they were chosen as an opening band either. People actually began moshing during this set. Miniature Tigers really isn't the type of band that you mosh to, so for one of their opening bands to be so far off, I just found it a little strange. Nevertheless, they get respect because they got up there and put on a show.
When the Miniature Tigers finally came out, I was very excited. Being a fan for a few years now, naturally I like their older music better than their newer music and I am happy to say that they played my favorites of their older stuff. I actually ended up liking all the newer songs better after having heard them live. The lead singer, Charlie Brand, has a great charisma and voice and sounds just as good live as he does on every track. Brandon Lee, the bassist, also caught my attention quite a bit. Not only was he totally adorable in the way he dressed i.e. suspenders, high waters and a button up, but he also does these great dance moves while he plays. It is almost like he is having a spaz attack with amazing rhythm. It was great. Charlie even at one point got down into the crowd and sang on the floor with everyone. They really put on a quality show.
After the show, I bought one of their t-shirts (because band t-shirts are pretty much the only graphics I do). I really had wanted just the one that said Miniature Tigers on it with a cool 80's inspired minimalist graphic, but they had already sold out, so I bought the t-shirt that reads "used to be the shit" on it, which is a lyric from one of their more recent songs, and I have got to say, I love it. The band also came out to the area in which merch was being sold and met fans, I thought that was really great. Any band who does awesome stuff like that gets like five gold stars in my book. It is really great to make yourself available to the people who are pushing your career and I thought it was awesome that they did that. My brother and his friend Miranda even had little conversations with two of the guys and took photos. Again, major props to that, they were really chill and willing to conversate with anyone who approached them and I truly think that is so important.
Overall, I had a great time I danced like crazy and screamed lyrics that I have been singing in my car for years and I also got to spend some quality time with my brother. Needless to say it was a great night.
Last but not least, seriously, if you've never heard their stuff, look them up. And really listen to or read the lyrics, not only is the music great and happy and feel good, but their lyrics are bomb. I know you'll like them, and if you don't, we probably can't be friends.